Officially, there is a difference between ecotourism and adventure tourism, however we believe they grow together.
Ecotourism is a way of travel that prioritizes the sustainability and conservation of the natural and cultural heritage of a destination, promoting the wellbeing of those involved.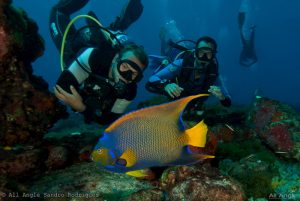 Adventure tourism takes the traveler to do recreational activities such as surfing, kayaking, canoeing, rappelling, rafting, diving or trekking. It is never in a competitive perspective.
If you are looking for wildlife and adrenaline activities here's a few destinations you can include in your itinerary in Brazil.
Brazil has a very varied climate and each region of the country provides a different kind of adventure activity.
Entering the deepest of the Amazon, you can take boat trips, trails through the woods, islands, waterfalls and river beaches. You can observe wild animals as monkeys, pink dolphins, frogs, alligators, snakes and lots of different species of birds in the richest and most preserved ecosystem on the earth.
Pantanal, in the west center of the country, has trails and crossings in wetland where you can have wildlife observation. You can see animals like alligators, bugio monkeys, tuiuius, carcarás and other birds, armadillos and capybaras. If you are lucky enough, you can spot even a jaguar.
There are plateaus distributed throughout the country, of which the most famous are Chapada Diamantina (Bahia) with amazing natural attractions like waterfalls, caves, valleys, rivers and trails, Chapada dos Veadeiros (Goiás) which has waterfalls and crystal clear pools, canyons and a diverse flora and fauna, Chapada dos Guimarães (Mato Grosso) in its surroundings are the largest sandstone cave in Brazil, waterfalls,  orange stone walls and beautiful rivers and Chapada das Mesas (Maranhão) with its more than 60 million-year-old rock formations that have table shapes.
There are waterfalls and great spots to go hiking in the canyons between Santa Catarina and Rio Grande do Sul as well. The canyons are called Fortaleza Canyon, Itaimbezinho Canyon and Malacara Canyon, you can see incredible waterfalls and take breathtaking trails.
In Minas must visit spot is Conceição de Ibitipoca, the park has trails, waterfalls and river beaches.
In Rio de Janeiro there are a lot of trails and crossings in the mountains. You can spend two days crossing the Serra dos Órgãos from Petrópolis to Teresópolis in the Serra region or hike to the Christ the Redeemer statue in the capital. The state has also the Itatiaia National Park, the first Brazilian national park, located in Serra da Mantiqueira. You can go there to go hiking and see incredible waterfalls.
If you are into water activities, don't miss Bonito in Mato Grosso do Sul and Nobres at Mato Grosso. Both places have fluctuations, trails, caves and crystal-clear water spots as cenotes and rivers that create natural aquariums. Other place like that is Jalapão, in Tocantins, where you can only access with 4×4 cars.
For those who want adventure and nature contemplation, the Lençóis Maranhenses National Park is the perfect destination. Depending on the season, there are two types of landscape, on dry season from October to December, almost all the lagoons disappear and the landscape becomes a huge desert. During and after the rains, especially between April and August, an incredible sequence of dunes and freshwater crystalline lagoons are formed.
If you like to dive, you can go to Fernando de Noronha in Pernambuco, Abrolhos in Bahia and Arraial do Cabo in Rio de Janeiro.
If you like rafting and canoeing, the perfect spots for you are Brotas in São Paulo and Iguazu Falls, in Paraná.